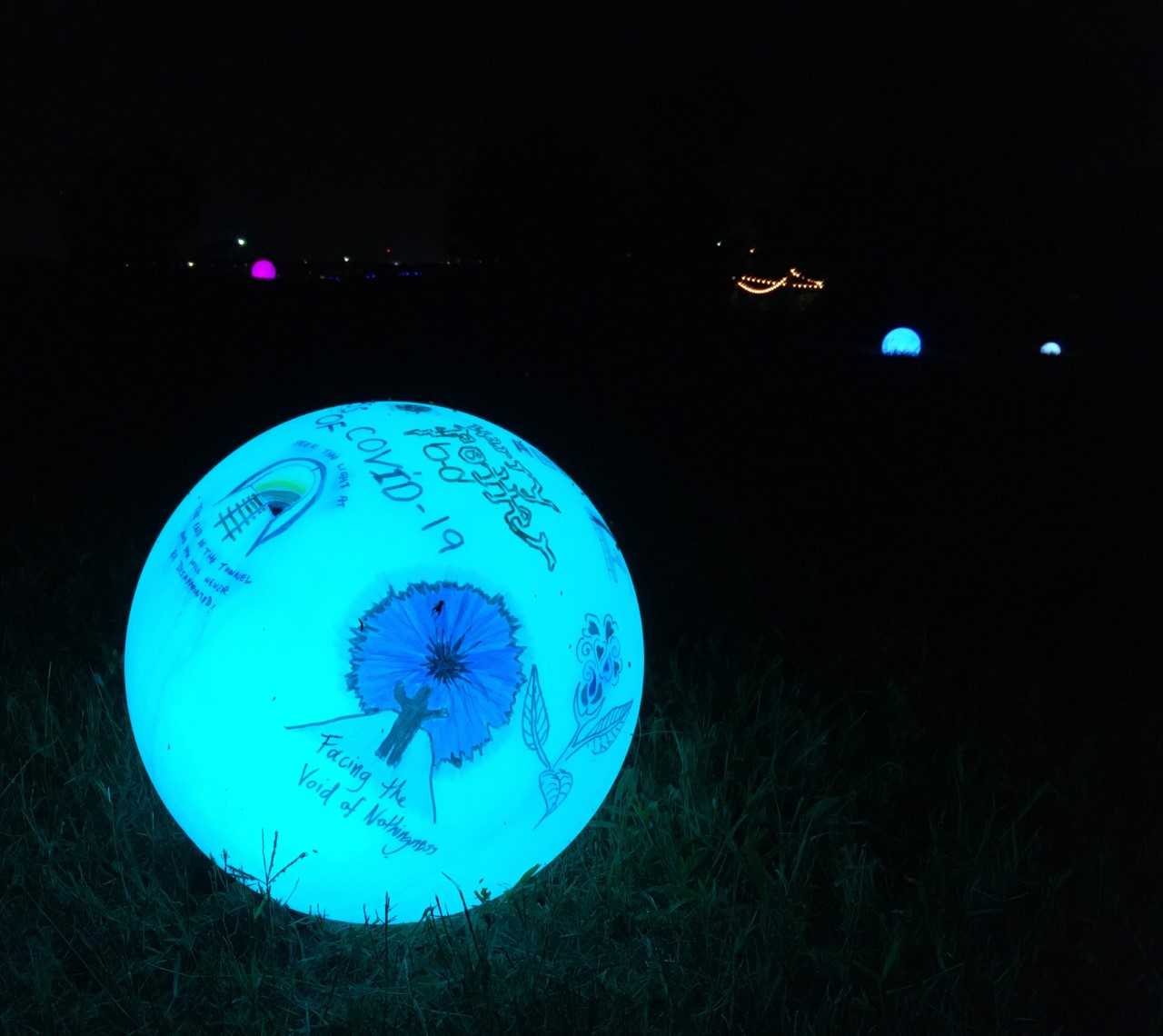 Beth Reitmeyer
For There is Always Light
2022
We go through life, looking for hope and love, finding it in expected and unexpected places. My artwork strives to be a physical manifestation of the cherished yet unseen parts of our relationships: hopes, dreams, wishes, loss, and love. It fosters relationships between people who may or may not otherwise meet, allowing them to spend time making memories and building friendships in specific places of one's life.
My work examines the joy of unexpected yet beautiful spaces and places that may be discovered as one explores the land and structures within it. My installations feature places based upon landscapes: rivers, caves, geodes, stars, and the moon. Currently a lot of my work focuses on clouds, as a metaphor of the storms and hopes of life. The sky is a physical space we all share, even during social distancing. Space/place are crucial: how do our bodies relate to and interact with small objects? Larger objects shift and become more architectural; they shift from things related to our bodies to spaces we inhabit. How do our bodies within spaces and in proximity to sculpture define who we are? What is our community like within these spaces/places? The landscape inspired spaces are comprised of rich, luscious, inviting materials, such as fabric, glitter, and twinkle lights. These inviting environments allow viewers to explore the land and get to know one another in a deeper, more profound way. They provide a space for renewal and perseverance.
My artwork embraces radical optimism (everyone can find joy and hope) and indiscriminate hospitality (all are welcome to create and experience joy through sharing). Viewers will realize that people are like landscapes: we make assumptions about initial appearances, but through knowledge and experience, pleasant surprises abound as we gain a deeper knowledge of each other while in the land and through art.
About the Artist
Beth Reitmeyer is a visual artist based in Nashville, Tennessee who likes to make people happy with her colorful installations. Beth attended Northwestern University (MFA), The School of the Art Institute (Post Baccalaureate program), and the Pennsylvania State University (BFA). Her work has recently been exhibited at the Frist Art Museum, Nashville, TN; The Elizabeth Foundation, New York, NY; OZ Arts, Nashville, TN; 1708 Gallery/Virginia Museum of Fine Arts, Richmond, VA; FIGMENT, Chicago, IL; The Downing Museum, Bowling Green, KY; Kindling Arts Festival, Nashville, TN; Zg Gallery, Chicago, IL; Institute of Contemporary Arts, London; and BOX13 ArtSpace, Houston, TX. Beth has been an artist-in-residence at The Studios at MASS MoCA, Mineral House Media, The Ragdale Foundation, Lake Forest, IL; ChaNorth, Pine Plains, NY; and CONVERGE, Nashville, TN. Her recent honors include grants from Metro Nashville Arts Commission/National Endowment for the Arts and selection as a finalist for a Burning Man grant.