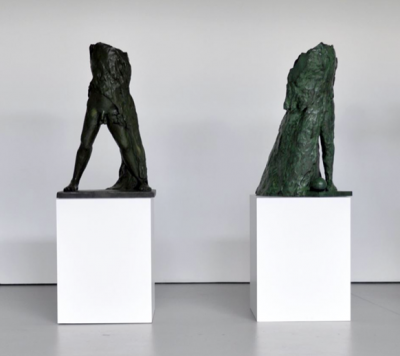 Ed Smith
Venetian Beggars
2020
About the Work
Why do we place such an inordinate amount of attention on things which simply exhibit a sophomoric newness? Why don't we as Artists and the Public champion the mature reengagement of the things which have proven to be timeless?
In music we have a great appreciation of classics and personal interpretations of those classic ideas, themes and views which have sustained humanity and furthered culture.
-------------------------
These bronzes were made to sing of my love of Venice, Italy. When there I fall under the spell of Domenico Tiepolo and Jacopo Robusti (Tintoretto).
They are physical memories, using the medium of the masters………
I visit Venice regularly and spend many days I standing in front of Tintoretto's house and studio in Venice making small furtive sketches, returning to my studio later to work those drawings into larger drawings and sculptures. At many of these sessions outside I would engage the people of the area. In the US a place which housed greatness like Tintoretto's would be a museum. In Venice a family lives there……….
After these drawings I make small wax figures which I cast in unique bronzes. And I would find myself returning to the drawings to work up larger figures culminating in these unique bronze sculptures.
----------------------------------
Previously bronze figures were in city squares, homes, offices, cemeteries and other places, remembering great deeds, great men and actions. They called to mind a remembrance of those things to the populace, asking of them to aspire to something. They embodied dreams and hopes of men, cities, states and countries.
Even smaller figures or reductions were to be seen in homes proving sophistication, enlightenment and an attachment to those great deeds. The work I submit to you is a memory of that past to inspire and challenge.
-------------------------------------
This suite of bronzes entitled "The Beggars " echo's the tragedy of the homeless, and sets the tone for ones who have, in some sense, been residents of the beautiful city of Venice from the very beginning. They are the counterpoint to that beauty and equally visible to those who can see…..
These figures are outsiders, the invisible ones. As one moves through Venice you are hard pressed to notice those who are most present, who in effect have been in the city from its founding, the beggars. These Beggar characters are very similar to Artists, being outsiders beyond the scope of conventions. They are funny, witty, pathetic and noble. They are just as we are.  They are our images. They show a world that too few of us have ever seen, or bothered to look at, the refection of ourselves.
I'm particularly pleased to see them as they look out to sea to the Veneto.
About the Artist
Ed Smith is a member of the National Academy of Design, a Guggenheim Fellow in Sculpture and Drawing, and a former Associate member of the Royal British Society of Sculptors. His work is represented in public and private collections in the United States and abroad. These include The British Museum; The Royal Museum of Fine Arts Antwerp, Belgium, Ministry of the Flemish Community; The Hood Museum; the Davis Museum; Yale University; the National Academy Museum; and many more. He has more than 80 one-person exhibitions and innumerable group exhibitions, including at the Queens Museum; Brooklyn Museum; The Royal Scottish Academy, Edinburgh, Scotland; Hillwood Art Museum; Caversham Press South Africa; Fleming Museum; Schenectady Museum; The Albright Knox Museum; the Albrecht-Kemper Museum; The Arkell Museum; and many others. His work has been written about and reviewed in the New York Times, Sculpture Magazine, The Baltimore Evening Sun, Art News, the Miami Herald, The Albany Times Union, Giornale Dell'Arte, San Francisco Examiner, Art New England, and many others.
Currently Gallery Director, Director of Marist Venice Biennale Program, and Professor of Art at Marist College, Ed has been a Visiting Artist, Lecturer, Artist-in-Residence, Professor, and Distinguished Visiting Artist at American University; Bennington College; Bard College; Brandeis University; Boston University; Clark University; Dartmouth College; Dia Art Center; Kansas State University; Lacoste School of the Arts in France; New York Studio School; Parsons School of Art; Pratt Institute; Swarthmore College; School of Visual Arts; Trumbull College, Yale University; University of New Hampshire; University of Pennsylvania; Vermont Studio Center; University of Tel Aviv, Israel; Glasgow School of Art; and many, many others. Awards and honors include Awards for Teaching Excellence, National Foundation for the Advancement in the Arts; Teaching Excellence at Marist College; Ford Foundation Grant; First Alternate Prix de Rome; Fulbright Award; Associate Fellow, Trumbull College, Yale University; New York State Council on the Arts; and others.
His work is primarily involved with mythic and heroic aspects of the Artist and man.