Sense of Place, May 25-June 15, 2023
Sense of Place presents thirty-five artworks, in photography, mixed media, printmaking, and painting, by thirty-two regional artists. The Alexey von Schlippe Gallery created a free call to artists who reside in towns served by the Cultural Coalition of Southeastern Connecticut to submit artworks that  explore the theme sense of place through ideas of memory, identity, the beauty of everyday spaces, familiar architecture, and nature through observation or interpretation. 
The exhibiting artists are: Ramil Khasanshin, Sunil Howlader, Alexi Rashan, Jerry Weiss, Sarah Stifler Lucas, Carmela Venti, Brad Guarino, Helen Cantrell, Nancy Gladwell, Elizabeth Ellenwood, Mattias Lundblad, Joan Mullins, James Morren, Victor Filepp, Eleanor Miller, Joseph Miklojcik, Kathleen DeMeo, Will Holub, Yujuan Zhai Patnode, Nancy Oates, Christopher Zhang, Earl Killeen, Mark Patnode, Susan MacKay, Nina Conolly, Lucia Sokol, Lois Lawrence, Glynis Blanker, Cassandra Calabrese, Dan Potter, Douglas Rice, and Sarah Savercool.
Deeply Rooted: The Tree of Life, March 30- April 30, 2023
Deeply Rooted: The Tree of Life, is an exhibition of artwork that engages with the tree of life as archetype and idea, celebrating trees as majestic and magical. It features work by Texas sculptor Beverly Penn and New York painter Katie DeGroot. It includes Indian tribal art; watercolors by Abel Rodriguez, an artist of the Columbian indigenous Nonuya community; an etching by celebrated Indian artist Gulam Mohammad Sheikh; and works by Connecticut artists Joan Mullins, Rashmi Talpade, and Anne Doris Eisner.  UConn Master of Fine Arts candidates Anna Schwartz, Amira Brown, Monica Hamilton, Mahsa Attaran, and Hannieh Kashani exhibited work from their graduate seminar with Professor Kathryn Myers.
The Alexey von Schlippe Gallery thanks John H. Bowles and Kathryn Myers for lending works from their collections for the exhibition. We also thank the School of Fine Arts and Global Affairs at the University of Connecticut for their support. 
The exhibition is part of The Abrahamic Story of the Tree, a university wide series of lectures, exhibitions, and performances presented by UConn's Abrahamic Programs. The exhibition presents artworks by seventeen artists in a variety of media including sculpture, painting, drawing, printmaking, and photo collage.
Poem Unlimited, February 2 – March 5, 2023
Poem Unlimited, is an exhibition of work by Master of Fine Arts candidates, curated by Kenny Heyne. The exhibiting artists are Mahsa Attaran, Logan Bishop, Amira Brown, Jennifer Davies, Monica Hamilton, Kenny Heyne, Hanieh Kashani, Anna Schwartz, Rossie Stearns, and Noah Thompson.
Connecticut Sea Grant, November 3 – December 18, 2022
Connecticut Sea Grant: Works by Kathryn Frund and Joseph Smolinski. The Connecticut Sea Grant (CTSG) is a federal-state partnership, housed at the University of Connecticut, which seeks to foster the sustainable use and conservation of coastal and marine resources. CTSG offers funding for artists through a competitive Arts Grant Program.
Kathryn Frund, who sources her art materials from the post-consumer waste stream, exhibits textile and mixed media works that contemplate and manifest systems of ocean currents, mysterious deep-sea forms, and the physical presence of Cape Cod Bay, to explore connections between consumer excess and stewardship. Through her use of discarded female garments in her Rescued, Reused Sandbag series the artist seeks to highlight "[her] community's growing collective female voice for sustainable change." Joseph Smolinski exhibits a new series of work representing his engagement with the coastal environment through the act of collecting. He incorporates found carbon-based materials, sea coal, in mosaic compositions of subtle and forceful beauty, and adorns his rustic reimagining of a Wunderkammer or curio cabinet, titled Climate Repository, with found objects and small sculptures, drawings, and digitally fabricated forms of his own making. The artist considers Climate Repository, built with wood milled from New Haven's Lincoln Oak, felled by Superstorm Sandy, as "both a relic of a climate event and a display site… where object history and material meaning combine to display a collection that references our changing climate."
Elizabeth Ellenwood, November 3 – December 18, 2022
The Interweaving of the Synthetic and Natural World is an exhibition of work by UConn Master of Fine Arts alumna and Fulbright scholar Elizabeth Ellenwood on view from November 3 - December 18, 2023. The exhibition presents the artist's photographic documentation created during her fellowship year in Norway, of microplastics that pollute ocean waters, and coastal scenes marred by plastic detritus. The artist also presents images of the Plastisphere, a new marine ecosystem in which microbes and single celled organisms colonize the surface of degraded plastic objects. Ellenwood's crystalline images are alluring and disturbing, illuminating in fine detail the reality of ocean pollution and the new worlds created in its wake. The opening reception for the exhibition on November 3  included an artist talk by Elizabeth Ellenwood at 6:30 pm.
Tides and Currents, September 8 – October 16, 2022
Tides and Currents is an exhibition featuring artworks by Laura Barr, Eileen Eder, Debbie Hesse, Heather Stivison, and Etty Yaniv. The artists present diverse artistic responses to the subject of Connecticut's marine and coastal environments and waterways that manifest concerns about climate change, the visualization of scientific data, close observation, and the uses of the imagination.
Laura Barr exhibits oil pastels from her Ocean Elegy series, diptychs that reflect the artist's concern for the protection and restoration of marine ecosystems. Eileen Eder captures the calm and sparkling beauty of our coastlines and waterways in her plein air oil paintings. Debbie Hesse creates large synthetic wall constructions that suggest shifting marine forms through a play of biomorphic shapes, light, and color. Etty Yaniv presents Archipelago, a series of small daily paintings composed of layered fragments of repurposed materials. In Archipelago the artist considers the power and force of water, a reflection of her "preoccupation with the urgent climate change crisis." Heather Stivison's oil paintings focus on capturing the mysteries of the deep ocean and the reflective surfaces of water.
Heather Stivison will give an artist talk at the opening reception on her two-year artistic collaboration with Noah Germolus, a Ph.D. candidate in Chemical Oceanography in the MIT-WHOI Joint Program at Woods Hole. The paintings from that collaboration blend artistic imagination with data about the dissolved organic matter, metabolites, proteins, and nutrients within ocean water to reveal or provoke new ways of thinking about our oceans.
The Narrative Imperative March 3 – April 3 2022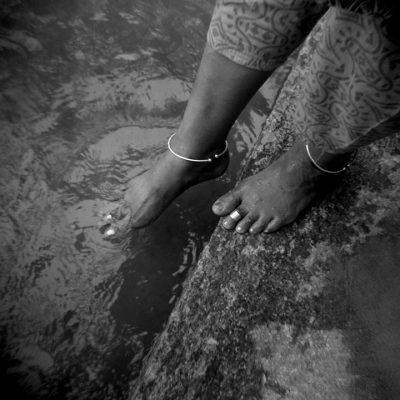 The Narrative Imperative will feature the work of four artists who use visual narrative to re-envision histories or present an urgent personal perspective. The exhibiting artists are Annu Palakunnathu Matthew, Shabnam Jannesari, Clintel Steed and Amira Brown. Annu Palakunnathu Matthew, Professor of Art at the University of Rhode Island, will present photographs from her Memories of India series, and photo animations in Open Wound: Stories of Partition, which were included in the artist's recent solo exhibition ReVision at the Newport Art Museum. Clintel Steed, a New York based artist and recipient of the John Koch Award from the National Academy of Arts and Letters, explores process through his raw reflections in paint on history and the unfolding of daily events. Shabnam Jannesari, Assistant Professor of Art at Hastings College, addresses the complexity of Iranian female identity under a patriarchal society in her large-scale paintings of imaginary spaces "where women can exist freely." Emerging artist Amira Brown's portraits of her character Dark Star reflect the artist's commitment to articulating her experience "…moving into the unresolved and imaginative aspects of blackness."
Open Air 2021