Tides and Currents, September 8 – October 16, 2022
Tides and Currents is an exhibition featuring artworks by Laura Barr, Eileen Eder, Debbie Hesse, Heather Stivison, and Etty Yaniv. The artists present diverse artistic responses to the subject of Connecticut's marine and coastal environments and waterways that manifest concerns about climate change, the visualization of scientific data, close observation, and the uses of the imagination.
Laura Barr exhibits oil pastels from her Ocean Elegy series, diptychs that reflect the artist's concern for the protection and restoration of marine ecosystems. Eileen Eder captures the calm and sparkling beauty of our coastlines and waterways in her plein air oil paintings. Debbie Hesse creates large synthetic wall constructions that suggest shifting marine forms through a play of biomorphic shapes, light, and color. Etty Yaniv presents Archipelago, a series of small daily paintings composed of layered fragments of repurposed materials. In Archipelago the artist considers the power and force of water, a reflection of her "preoccupation with the urgent climate change crisis." Heather Stivison's oil paintings focus on capturing the mysteries of the deep ocean and the reflective surfaces of water.
Heather Stivison will give an artist talk at the opening reception on her two-year artistic collaboration with Noah Germolus, a Ph.D. candidate in Chemical Oceanography in the MIT-WHOI Joint Program at Woods Hole. The paintings from that collaboration blend artistic imagination with data about the dissolved organic matter, metabolites, proteins, and nutrients within ocean water to reveal or provoke new ways of thinking about our oceans.
The Narrative Imperative March 3 – April 3 2022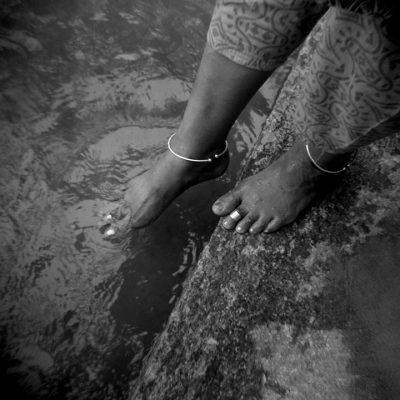 The Narrative Imperative will feature the work of four artists who use visual narrative to re-envision histories or present an urgent personal perspective. The exhibiting artists are Annu Palakunnathu Matthew, Shabnam Jannesari, Clintel Steed and Amira Brown. Annu Palakunnathu Matthew, Professor of Art at the University of Rhode Island, will present photographs from her Memories of India series, and photo animations in Open Wound: Stories of Partition, which were included in the artist's recent solo exhibition ReVision at the Newport Art Museum. Clintel Steed, a New York based artist and recipient of the John Koch Award from the National Academy of Arts and Letters, explores process through his raw reflections in paint on history and the unfolding of daily events. Shabnam Jannesari, Professor of Art at Hastings College, addresses the complexity of Iranian female identity under a patriarchal society in her large-scale paintings of imaginary spaces "where women can exist freely." Emerging artist Amira Brown's portraits of her character Dark Star reflect the artist's commitment to articulating her experience "…moving into the unresolved and imaginative aspects of blackness."
Open Air 2021