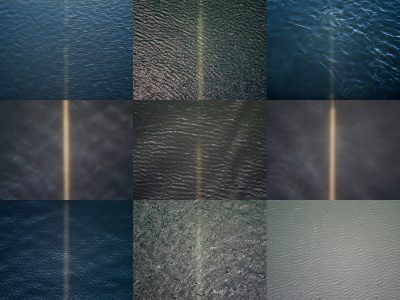 Floating Points: Observing the Plastisphere with NASA & Waterbodies: Works by Marsha Borden, sTo Len, and Etty Yaniv
Floating Points: Observing the Plastisphere with NASA
An exhibition of photography by Oskar Landi in collaboration with UConn Avery Point Marine Sciences Professor and Researcher Heidi Dierrssen and NASA. Oskar Landi and Dr. Dierssen will give a talk at the reception on November 9. The exhibition will promote environmental literacy about microplastics and highlight the quest to track floating plastics using optical remote sensing from satellites. It will present the challenge of "seeing" particles on the sea surface from space because of foam, glint, aerosols, and other things that can mask and mimic the appearance of floating microplastics. The exhibition will demonstrate a two-way collaborative dialogue between art and science--the science informing the art and the art informing the science.
Waterbodies: Works by Marsha Borden, sTo Len, and EttyYaniv
An exciting exhibition of textiles, installation and prints by three contemporary artists whose works communicate awareness of damage to our waterways and marine environments. Marsha Borden and sTo Len received 2022 Connecticut Sea Grant Art Support Awards and will be presenting the artworks they created through support from the CTSG.
The reception for both exhibitions is November 9 from 5:30- 7:30 pm.
The two exhibitions will be on view from November 9 - December 10, 2023. Gallery hours are Thursday- Sunday 12-4:00 pm.