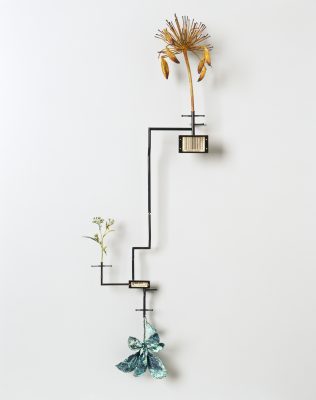 Deeply Rooted: The Tree of Life, March 30 – April 30, 2023
Deeply Rooted: The Tree of Life is an exhibition that engages with the tree of life as archetype and idea, celebrating trees as majestic and magical. The exhibition is part of The Story of the Tree, a program of lectures, performances, and exhibitions presented by the University of Connecticut's Abrahamic Programs. The exhibition at the Alexey von Schlippe Gallery will open with a reception on March 30 from 5:30-7:30 pm with an artist talk by exhibiting artist Beverly Penn at 6:30 pm. The exhibition will remain on view through April 30.
The exhibition features work by Texas sculptor Beverly Penn and New York painter Katie DeGroot. It includes Indian tribal art; watercolors by Abel Rodriguez, an artist of the Columbian indigenous Nonuya community; an etching by Indian artist Gulam Mohammad Sheikh; and works by Connecticut artists including UConn Master of Fine Arts candidates.
Beverly Penn, Professor Emerita at Texas State University creates delicate cast bronze sculptures of plant forms that reference taxonomic structures and the tension between the culturally contained and the wild. Katie DeGroot is a painter interested in the abiding presence of trees as particular survivors and as members of a community. Her playful narrative paintings of lichen festooned tree branches emerge through her process of observational painting.
The exhibition presents artworks in a variety of media including sculpture, painting, drawing, printmaking, and photography.
The Alexey von Schlippe Gallery thanks John H. Bowles and Kathryn Myers for lending works from their collections for the exhibition. We also thank the School of Fine Arts and Global Affairs at the University of Connecticut for their support.