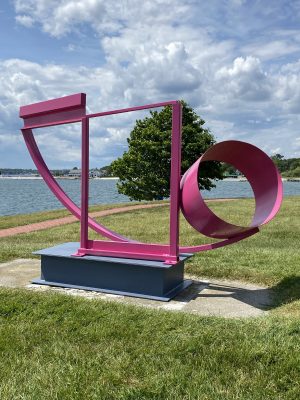 Open Air 2023
Open Air 2023 is the Alexey von Schlippe Gallery's fourth annual exhibition of sculpture and installation at the University of Connecticut Avery Point. The exhibition features eight new sculptures or installations along the shoreline walk. At the opening reception on June 15 the gallery presented a projection on the lighthouse, Room for Storms by Birgit Rathsmann, at dusk.
The Open Air 2023 artists are Cate Solari, Noah Thompson, Walter Early, Kelsey Tynik, Becca Barolli, Monica Franciscus, Birgit Rathsmann, Jessica Smolinski and Marilu Swett.
The exhibition is on view from June 15 - September 27, 2023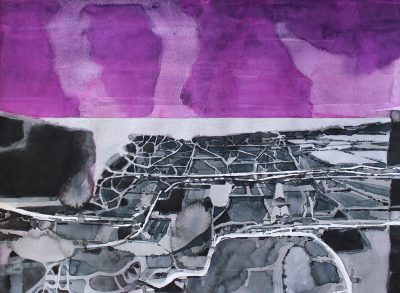 Surface and Space: Works by Artists of the South Asian Diaspora
Exhibiting artists Amina Ahmed, Santrupthy Das, Firoz Mahmud, and Sajal Sarkar present works exploring the poetry of material and geometry, through abstraction and representation in drawing, watercolor, video, and folded paper.Their artworks address patterns of tradition, the creation of community, historical narratives, and notions of home.
Amina Ahmed's delicate works on paper refer to her engagement with making marks and drawing in space. Her video "Standing under Our Ancestors" illuminates the familial origins of her practice of geometry. Santrupthy Das creates installations of folded paper that hover and catch the light on their geometric planes. Her installation, Earth Systems, incorporates student work  created during her two workshops with UConn Avery Point students. Firoz Mahmud's works on paper present dense juxtapositions of imagery, linear marks,  and washes of color that highlight the complexities of colonialism and heritage. Sajal Sarkar's Perilous Home series and other works use abstraction and imagery to explore the perils of the physical world and the nature of home as an immigrant.
The exhibition is on view from September 14 -October 22. Gallery hours are Thursday-Sunday 12-4:00 pm.