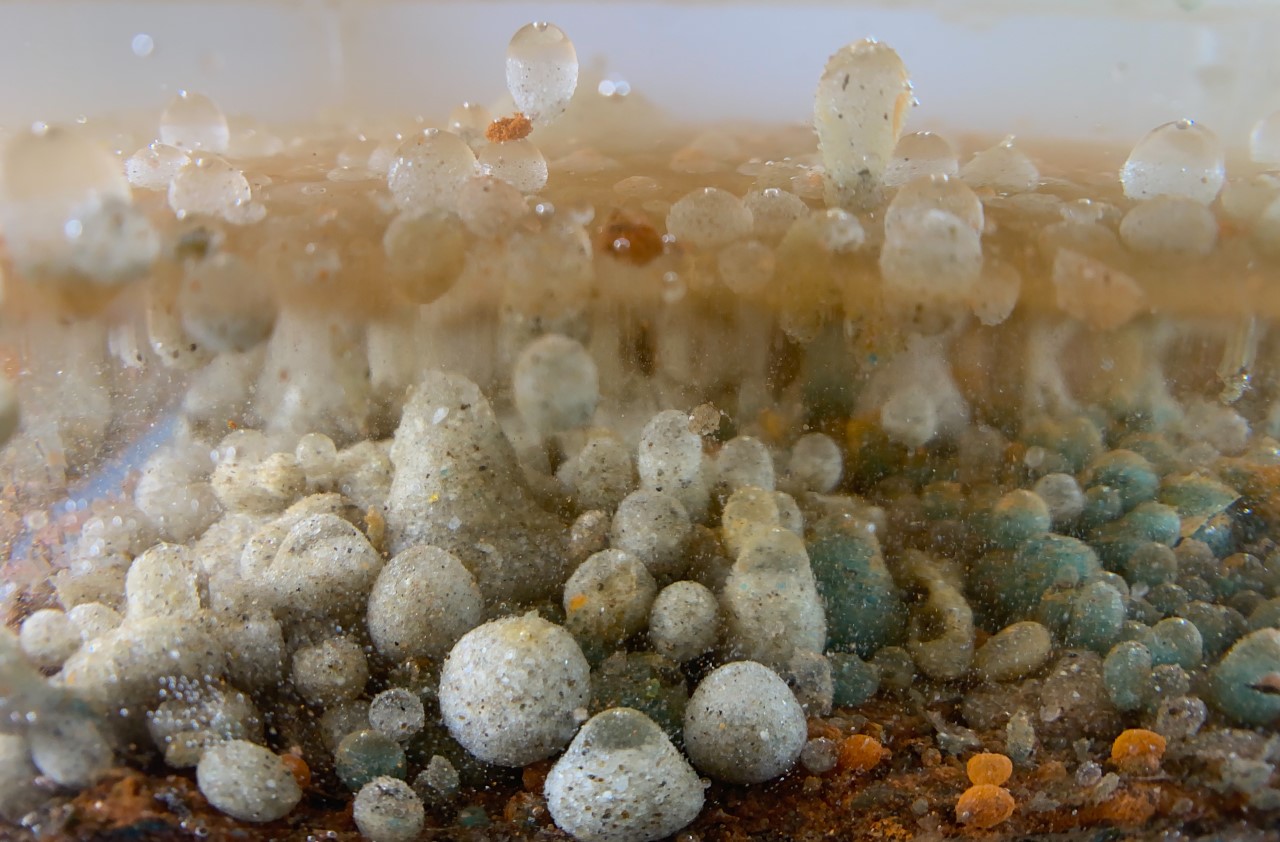 Margot Lystra
Watermouth (1, 2, 3)
2022
I adore Earth's livingness, am fascinated by its complexity, and yearn to grasp its transformations as it warms. I believe that making and sharing novel earthly visions can better equip people to navigate rapid environmental change. And so, I make art: to glimpse planetary phenomena anew, to share those glimpses with others, to offer attunements to climate and land.
My creative practice is interdisciplinary, building on my expertise as a designer, teacher, historian, and theorist of landscape architecture. This work engages a landscape architectural tradition: drawing and making to understand existing sites and imagine their futures. Rather than using these methods to design specific places, I use them to explore unbound landscape conditions: material fluxes and flows, formations of varying scales and tempos. I am particularly interested in occurrences that are not easily perceived by humans yet are essential to life on earth: large-scale climatological shifts, geological formations, movements of carbon and other particulates through the atmosphere.
Watermouth (1, 2, 3) is part of an ongoing series of miniature landscapes, Unruly Earths. These are process-driven works. I layer sediments and fluids into a jar, see what they make of themselves, and add more in response to what emerges. As the jar's contents accrete and change over time, I document what occurs. The Watermouth works focus on interactions between water, earth, and air. They manifest phenomena that might be immediately felt at Avery Point, as well as those that are less apparent: air currents, collisions of water and rock, underwater movements, and flows. My desire is to invoke a deeply relational, slow-time sense of waters' edges-- at Avery Point, and everywhere that water meets land.
About the Artist
Margot Lystra is an artist, scholar, and teacher of landscape design and theory. Margot's creative practice explores ways to make sense of climate change and other planetary phenomena visually and bodily. Recent activities include a fall 2021 residency with the Urban Soils Institute / Swale House in New York, New York, and a short film collaboration with composer/musician Howard Ryan (hauras), currently under production. Margot is also collaborating with multimedia artist Joshua Rosenstock to develop Sensing Carbon, an augmented reality application that builds on the visual language of her landscape works to visualize flows of carbon in a user's immediate environment.
As an educator Margot has taught landscape architectural design, representation, history, and theory at Université de Montréal, University of Buffalo, Cornell University, California Polytechnic State University – San Luis Obispo, and University of Detroit Mercy. As a designer she has worked for CMG Landscape Architecture and the Detroit Collaborative Design Center. Margot holds a Ph.D. in the History of Architecture and Urbanism from Cornell University, a Master of Landscape Architecture from the Harvard Graduate School of Design, and a Bachelor of Arts in Biology from Swarthmore College.