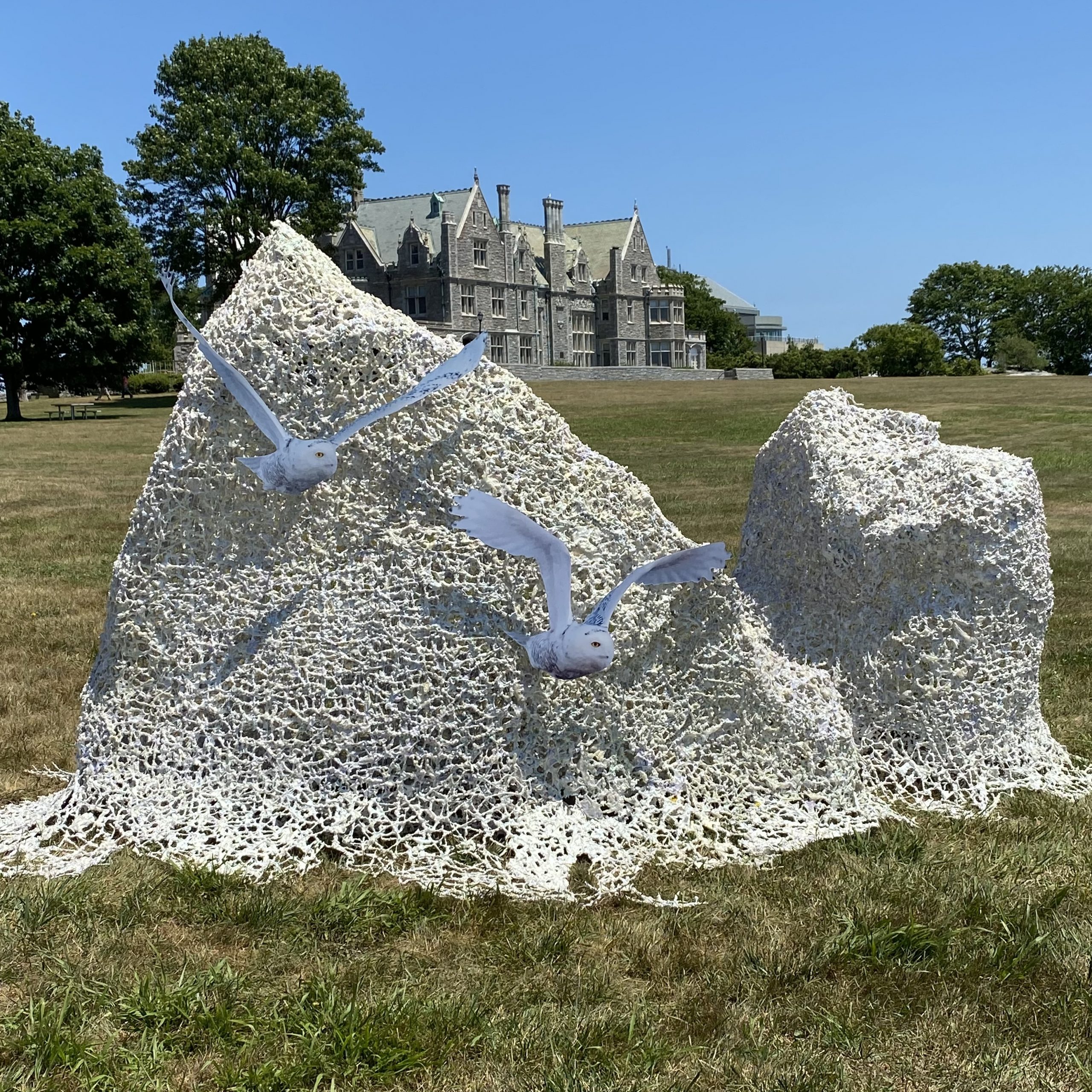 CoyWolf Collective
Silent Vanishing
2022
Inspired by the Coywolf, a canid hybrid descended from coyotes and eastern wolves, the CoyWolf Collective is a trio of sculptors and photographic artists merging their diverse skills to address issues of nature's fragility and resilience in the era of extreme climate change.
We create hybrid sculptures that communicate the shape in form and image of nature rapidly disappearing. Combining photography with sculptural constructions reminiscent of geological formations, our installations convey a commanding physical presence. Piercing eyes of wild birds in flight emerging from jagged geographical structures invite the viewer to engage physically and emotionally.
The Coywolf Collective strives to illuminate the sense of urgency as time is running out for life as we know it on planet Earth. These upheavals in our collective environment are echoed in our lived experiences. Volunteering to protect nesting sites in NYC, maintaining protected areas, participating in clean-up events for local parks and supporting land trusts, keeps the CoyWolf Collective connected to the natural world. Unfortunately, thousands of wildlife species near human development are being silently displaced and eradicated by rising oceans and loss of habitat. Our work strives to educate, understand, and work with the grief, beauty, and vitality that accompanies the transience and ephemeral aspects of life in the 21st Century.
About the Artists
Elizabeth Knowles is a visual artist based in Norfolk, CT and New York, NY. Utilizing a variety of media, her work reveals both static and dynamic patterns in nature recurring on differing scales of perception. Elizabeth earned a BA from Pomona College, Claremont, CA and an MFA from The School of the Art Institute of Chicago, IL. Recent projects include installations for Unesco's Artistes + Science, Monaco, Allen Street Mall, NY, NY, Pelham Art Center, NY, The Mount, Lenox, MA, Rockrose, NY, NY, the Flat Iron Prow Art Space, NY, NY Chashama, NY, NY, the New Canaan Sculpture Trail, CT, NYU Langone, NY, NY and Montefiore Hospital, Bronx, NY. elizabeth@elizabethknowles.com
Steven Phillip Harris is a New York based artist living in Brooklyn. He holds an MFA in Studio Art and is currently teaching at Queens College and at SUNY/Empire State College. Harris has exhibited his photographic work at Marymount Manhattan College in NYC, LIC-A Plaxall Gallery in LIC, NY, The Atlantic Gallery in NYC, AHA Fine Art in Brooklyn, NY, Mana Contemporary gallery in NJ, and in the New York State Museum in Albany, NY, SUNY/Empire State College in NYC, and Queens College/CUNY, Flushing, NY. Clients include work for the Sean Kelly Gallery of Marina Abramovic, video projects for the Sculptors Guild, and images created for Whitney Museum of American Art and artist Ellen Birkenblilt for the Sarasota Museum of Art. In addition, Harris has collaborated on various projects for contemporary artists producing public outdoor art installations. shphotography.com
Debra Vilen is a New York based artist living in Brooklyn. She holds a BA in the Fine Arts from SUNY and works in the contemporary art world in NYC on numerous art installations and exhibitions worldwide.  Her photographic landscapes are inspired by the natural world. In her recent work, "On the Wing", Debra captures vignettes of urban wildlife. In light of the loss of 3 billion birds in North America since 1970, her works highlight the fragile nature of our collective existence.  Combining a hybrid approach, Debra experiments with digital techniques and alternative mediums that harken back to early historic photographic processes. Debra's work was recently included in Other Ways of Seeing, Alternative Processes in Photography curated by Orestes Gonzalez and Pierre-Yves Linot at the Culture Lab, LIC, NY. debravilen.com